---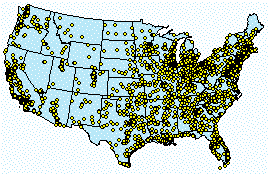 Geographic Information Systems (GIS) are a set of computer programs that can organize, display, and analyze spatially distributed data.
At its simplest, GIS is "mapping", providing a geographic arrangement of diverse information, allowing for visual comparison.
Such maps are therefore a powerful means to educate, in class and in publications.
Additional GIS tools can extract related features, provide geostatistical analysis, and generate 3D models and movies of time-dependent changes.
GIS has been applied in geology, biology, psychology, anthropology, sociology, linguistics, history, political science, economics, and many other fields.
GIS data is commonly in one of two forms:
Raster: A grid of rows and columns of colored cells.
These might represent photographic or scanned images.

Vector: A geometric shape, including points, lines, and polygons.
These might represent buildings, roads, and counties.
Either of these can have tables of data associated with them, e.g. elevation, population, financial values, etc.
These associated data can be used to color a map so that it conveys information with visual impact.
Some samples of GIS-produced maps for the town of Amherst are shown below, clear evidence of its cross-disciplinary value.
The data underlying these maps comes from many sources: the Town of Amherst, the State of Massachusetts, the U.S. Census Bureau, and the U.S. Geological Survey.
---
Overview Maps

Visible Orthographic Photograph

Scanned Map

Infrared Orthographic Photograph

Amherst's true colors are revealed by this orthophoto (a photo with perspective removed). It's a mosaic of many taken by airplane.
Cell Resolution = 0.152 m = 6 in.
A scanned USGS topographic map shows streets, buildings, open lands (green), and constant-elevation contours (brown lines).
Cell Resolution = 2.54 m = 8.33 ft = 100 in.
A Landsat 7 satellite image shows warmer areas (purple) and cooler areas (green), with streets added for reference (black).
Cell Resolution = 291 m = 955 ft.
Type: Raster/Image.
Type: Raster/Image.
Type: Raster/Image; Vector/Line.
---
Scientific Maps

Terrain Elevation (Topography)

Water Resources (Hydrography)

Vegetation

This "digital elevation model" (DEM) gives each pixel a color-coded elevation (black = 90 ft., white = 1302 ft.).
Cell Resolution = 30 m = 98 ft.
Lakes, reservoirs, and streams in blue, over the DEM to illustrate relationship to land forms.
Different types of vegetation, e.g. forest, grasslands, agricultural, etc.
Type: Raster/Data.
Type: Raster/Data; Vector/Line, Polygon.
Type: Vector/Polygon
---
| | | |
| --- | --- | --- |
| Demographic Maps | | |
| Population | Age | Income |
| Census 2000 population. Each dot represents 10 people (distributed randomly within census blocks, also shown). | Census 2000 average age within each census block, grouped into four categories. | Census 2000 average household income within each census block group, grouped into four categories. |
| Type: Vector/Polygon. | Type: Vector/Polygon. | Type: Vector/Polygon. |
| | | |
---
| | | |
| --- | --- | --- |
| Civil and Political Maps | | |
| Streets, Precincts, and Schools | Land Use | Open Lands and Trails |
| Streets and railroads, voting precincts (blue), and K-12 schools. | Different uses of land, e.g. commercial, residential, agricultural, institutional, etc. | Open lands (green) and trails (red), and again water(blue). |
| Type: Vector/Line, Polygon, Point. | Type: Vector/Polygon. | Type: Vector/Line, Polygon. |
| | | |
---
| | | |
| --- | --- | --- |
| Calculated Maps | | |
| Non-English Principal Language | School Buffer Zones | Watersheds |
| Census 2000 population whose principal language is not English, normalized by the total population (applied to census block groups). | Schools surrounded by 1500-ft. buffer zones. | Analysis of digital elevation model to determine regions that flow into the same stream (in random colors), with streams superimposed (light blue). |
| Type: Vector/Polygon. | Type: Vector/Line, Polygon, Point. | Type: Raster/Data; Vector/Line, Polygon. |
| | | |